ENDING WIDESPREAD VIOLENCE AGAINST WOMEN
March 8th, 2011 marks the 100 anniversary of International Woman's Day. On this day, every year, I post a blog asking people to please consider uniting together to end global violence against women.
Please take a moment to see what you can do to help, even if it's to read this blog, copy and paste. Worldwide, 1 in every 3 women will be a victim of violence in her lifetime…often, it will be someone she knows. Violence against women between the ages of 15 – 44 cause more death and disability than cancer, malaria, traffic accidents, and even war. 65% of teenage girls have admitted to being beaten or hit by a boyfriend. One in Five female highschool students reports being physically or sexually abused by a dating partner. It is estimated that 500,000 women are stalked by an intimate partner each year in the United States. 70% of men who abuse their wives/living partners also abuse their children and animals. Worldwide, 40% – 70% of all female murder victims are killed by an intimate partner. Think about that…40% to 70%. AND ALL OF THESE STATISTICS ARE ONLY THE REPORTED CASES.
In countries of conflict, often the aggressive party, in an attempt to end the blood line of the race they are committing genocide against, will either rape or kill the females. They often kill the children of both genders as well. This is EVERYONES problem and we need everyone united.
Please help to end the violence against women and children.
Each year, more men and women are working to End Violence Against Women…and show their support for the White Ribbon Campaign!
One of the most important things you can do to help end violence against women, is to speak out against it. You can do this by organizing your own White Ribbon Campaign effort in your school, workplace, faith group or community…
Over 5,066,549 said NO to violence against women, demonstrating that there is an enormous movement of people determined to put an end to this pervasive human rights violation that affects as many as one in three women. Do what you can to get as many men and boys involved, encouraging them to spread the word to their friends…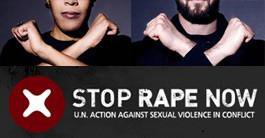 Use your voice to make a change. It's everyone's responsibility. Add your voice to an ever-growing movement of people who call for global action to end violence against women. We need to break through the wall of silence that surrounds this abuse.
A message of understanding and hope for all women directly in reach of those who choose to understand and work for change…
"NO to violence against women!"
Women have a right to live free from violence and the fear of violence…
Men's involvement is key. Clearly, men need to be involved in promoting gender equality and Women's Reproductive Health…
I hope this blog inspires and empowers women and men to do something, whether it's on a personal level, in their community or amid the community of women around the world to help stop violence against women…
And don't forget our children…
I would like to take a moment here to remind people to Stand UP For Kids. Stand UP against violence.  Stand UP for animals and this planet. And stand up TO cruelty.
In Unity,
Marla Stormwolf-Patty
Vice-President of AELLA