On October the 26th, AELLA and the STOPCRUSH.ORG initiative supported Karen Hamza's Angel Hanz for the Homeless by funding a healthy vegan meal for the homeless at North Hollywood Park, prepared by Betty Barns's Bikini Bites vegan catering.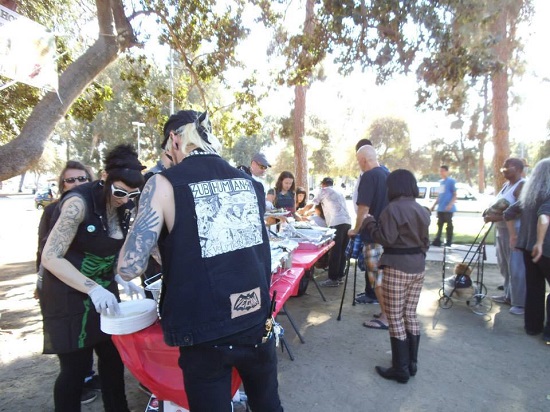 The turnout was incredible and the delicious food didn't last very long.
We would like to thank Karen for her continued dedication toward making people and animals' lives better, Betty for helping to put together this incredible vegan meal on such short notice, as well as every volunteer who donated their time to help make the event a reality!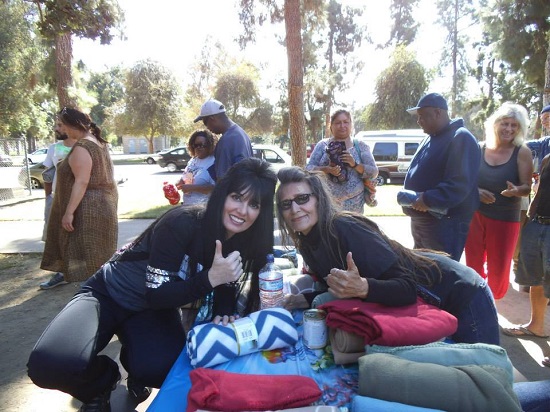 Donations came in many forms and from several sources to help Karen realize this event. Among other forms of donation, blankets, shoes, clothing and food for homeless animal companions was supplied by numerous individuals.
Karen, Betty and the selfless volunteers who gave their time in the aid of those less fortunate, continue to prove that simple acts of kindness can go a long way toward bringing a bit of light into the lives of others.
Many of us live from paycheck to paycheck and we must remember that any one of us could  hit a stroke of "bad luck", rendering us without a roof over our head or food in our belly. Some of us have already experienced what living in a homeless situation is like. This is all the more reason why we should always lend a helping hand to others who are trapped in a less fortunate situation than our own, when the opportunity arises.
The team members at AELLA and the STOPCRUSH.ORG initiative are proud to have helped sponsor this event. We hope to work with Karen and Betty again in the very near future. In unity, for all life.
"Darkness cannot drive out darkness: only light can do that. Hate cannot drive out hate: only love can do that." ~ Dr. Martin Luther King Jr.