Sad statistics compiled by the United States Department of Justice report that a woman is raped every 2 minutes, somewhere in the United States of America, alone, and according to the American Medical Association, sexual violence, rape in particular, is considered the most under-reported violent crime.
The most common reasons given by victims of rape, for not reporting the crime, are the belief that it is a personal or private matter, or that they fear reprisal from the assailant. A 2007 government investigation estimated that 60 percent of sexual assault cases are not reported to the police at all and 15 of 16 rapists will never spend a day in jail.
Keep in mind that 44 percent of reported rape victims are under the age of 18 years old and approximately 2/3 of all sexual assaults are committed by someone known to the victim. 38 percent of rapists are either a friend or an acquaintance of those they prey upon.
15 percent of sexual assault and rape victims are under age 12 whilst 7 percent of girls in grades 5-8 and 12% of girls in grades 9-12 said they had been sexually abused. 93 percent of all juvenile sexual assault victims know their attacker. Many of the assailants are sadly, family members.
1 out of every 6 women in the United States has been the victim of at least, an attempted rape. Nearly 18 million women currently living in the United States have been victims of an attempted or completed rape. 1 in 5 female high school students reported being physically or sexually abused by a dating partner. It is estimated that 500,000 women are stalked by an intimate partner each year in the United States.
65 percent of teenage girls have admitted to being beaten or struck by a boyfriend. Violence against women between the ages of 15 – 44 cause more death or disability than cancer, malaria, traffic accidents and even war. 70 percent of men who abuse their wives/living partners also abuse their children and animals. Worldwide, 40 – 70 percent of all female murder victims are killed by an intimate partner.
On a global scale, 1 in every 3 women will be a victim of violence in her lifetime. Women and children in impoverished/oppressed nations can receive severe treatment. In some parts of the world, women and young girls face what is considered "corrective" rape. Corrective rape is obviously a brutal criminal practice, whereby lesbian women are raped, sometimes even under the supervision by members of their families or local communities, purportedly as a means of "curing" them of their sexual orientation. Young girls are also subjected to this horrific brutality, as a "preventative" measure. Please visit ActionAid to find out how you can help fight this injustice here.
One of the most important things that we can all do to help end this violence against women, is to speak out against it. I can not stress enough, how important it is for the fellow members of my gender to raise their voices in defense of women. Women have a right to live free from such attacks and the involvement of men in the fight, standing beside them, is the key to stopping it. Clearly, we need to be involved in promoting gender equality.
Please click on the photo above to visit Amnesty International's against violence toward women pages.
So, how can you get involved? There are many ways to raise your voice in defense of women around the world. Support groups like Amnesty International or ActionAid, who are working with other groups like the South African Human Rights Commission to help battle the corrective rape issue. They desperately need support. Every group and campaign is short of voices. Simply care enough to get involved and work to educate others. We need to break through the wall of silence that surrounds these issues of abuse.
The White Ribbon Campaign is effective in helping individuals organize efforts in their schools, workplaces, faith groups or communities. They help by:
Challenging everyone to speak out, and think about their own beliefs, language and actions.
Educating young people, especially young men and boys, on the issue through the educational resources they produce.
Raising public awareness of the issue.
Working in partnership with women's organizations, the corporate sector, the media and other partners to create a future with no violence against women.
Supporting White Ribbon Campaigns everywhere with their experience, resources and networks. Please click on the banners below.
The United Nations is also aiding us to take action against rape by helping you host an event and helping you connect with media or your legislative representatives.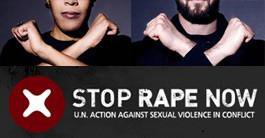 Do not force the silent victims of brutality to remain silent any longer. Get involved and say NO to violence against women.
The AELLA Team